Where 9 Chefs Shop for Groceries Online
By Alyse Whitney
Before quarantine, swinging by four different grocery stores to find super-specific ingredients for a single recipe wasn't unheard of, especially for avid home cooks. But now that we're limiting how many places we go to (and how often we go to them), many of us are sourcing perishable goods and other comestibles online.
Some kitchen staples, like produce and meat, can be difficult to get through same-day (or even same-week) delivery from places like Instacart, FreshDirect, and Peapod. Fortunately, there are loads of specialty shops, farms, and butchers that have recently expanded their shipping options nationwide, so you can have a bag of just-caught mussels, a bottle of beautifully aged soy sauce, even a whole duck sent to you overnight. Those are just a handful of items that nine chefs told us they've been ordering online. Read on for all of their picks, from all-purpose spices to unsung cuts of meat you may not have considered.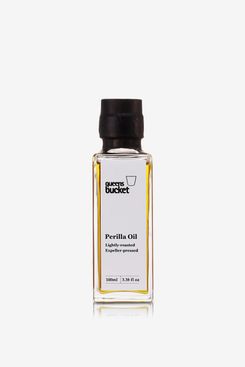 While you can't take the experience of the tasting menu at Atomix home with you, there are key ingredients from the fine-dining modern Korean restaurant in Nomad that you can add to your pantry. Junghyun Park, owner and executive chef of Atomix and Atoboy, as well as the founder of new online shop Atonae, calls Gotham Grove his "recommended source for more rare, high-quality Korean ingredients to upgrade staple pantry items," including aged soy sauces, vinegars, gochujang and other soybean pastes, oils, salts, seaweed, and more. "These artisan products are definitely in a different league from the more readily available counterparts in local markets or online," he says. If he had to pick just one item, it'd be the perilla oil, which "has a distinctively aromatic, nutty fragrance and taste, similar to sesame oil, its sister oil." He says it's been used in Korea for hundreds of years, and he compares it to what olive oil is in Italian cooking. "It's a great fat to add and balance out seasonal plates utilizing fresh ingredients, where vegetables and fresh, acidic flavors tend to come forward," he adds. Park suggests buying smaller quantities and refrigerating perilla oil once opened, since it is more volatile than a lot of oils and spoils more quickly.
$5 shipping anywhere in the U.S. and free shipping over $99. Shipments will arrive in one to five business days.
Read article in original format here