Mr. JY Park established Queens Bucket in 2012 with the goal of creating sesame and perilla oils authentic to the seeds from which they are made. The company's launch followed years of research identifying the highest quality seeds and developing an innovative production process that combines traditional methods with new technology. Seeds are infrared-roasted at low heat, which avoids burning the seeds and maintains their natural flavor and nutrition. Expeller pressing and pharmaceutical-grade filtration are then used to produce a collection of oils unique in their color, flavor, and aroma. All Queens Bucket oils are the unrefined, first press of 100% natural, non-GMO Korean-grown seeds.
PRODUCTION PROCESS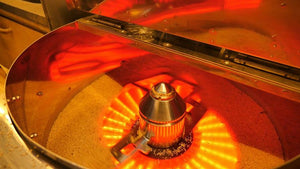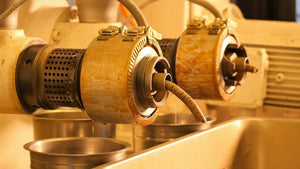 INFRARED RAY ROASTING

Infrared ray is used to roast the seeds at lower heat (160℃ for sesame and 140℃ for perilla) than conventional oils (roughly 270℃). This unique roasting method cooks the seeds evenly without burning the shells, producing a smooth, nutty flavor without the bitter aftertaste of some conventional oils.
EXPELLER PRESS

Both the raw and light-roasted oilseeds are expeller-pressed at a temperature of less than 70℃. Though more delicate in nose and flavor than the light-roasted versions, the raw oils still pack a punch, and fully maintain the seeds' nutritional profile. Absolutely no chemicals or solvents are used in the used in the oil extraction process.
PHARMACEUTICAL-GRADE FILTRATION

All oils pass through a pharmaceutical-grade filter made of natural materials and certified for food use in the EU. The filter removes any impurities while maintaining the vitamins and minerals that make the seeds so healthy.
PERILLA

Part of the mint family and closely related to the shiso plant, perilla is highly regarded for its fragrance and subtle minty flavor. The leaf pairs well with BBQ meat in a ssam (wrap) or marinated in soy and ginger to be eaten like kimchi. The roasted seeds are commonly used as an ingredient in Korean dishes but also make a great snack on their own.
SESAME

Sesame been a central ingredient in Korean cuisine for thousands of years. The seeds are used in everything from desserts to sauces, while the oil is used to dress vegetables, dipped with grilled meat, or applied to seaweed prior to roasting.
Known for

High level of Omega -3 (over 50%)

Omega-6 and Omega- 9

Skin and hair health

Anti bacterial, anti-inflammatory, and antioxidant qualities
Known for

Omega 6, Vitamin E, Zinc and Copper

Hair and skin health

Improving digestive process

Blood circulation