Kiki Aranita was co-chef and owner of Poi Dog, a restaurant and catering company that closed its Rittenhouse location in July 2020 but served Hawaii's local food to Philadelphians for seven years. In addition to running a busy fast-casual storefront, she has catered many large-scale weddings, events and fundraisers in Philadelphia and around the U.S. For years, her goals involved celebrating the underrepresented cuisines of multicultural origins as well as seeking to minimize food waste.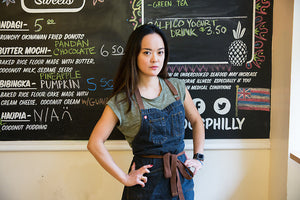 What does Poi Dog mean?

"Poi Dog" means "mixed breed" or "mutt" in Hawaiian pidgin and refers to hybrid foodways of the business, which for 7 years served plate lunches, poke bowls and desserts rooted in Hawai'i's local food traditions. Poi Dog's flavors drew from the influences of the Chinese, Filipino, Japanese and Portuguese workers who brought their cuisines to the islands' sugarcane and pineapple plantations, eventually melding them together to form Hawai'i's local food.
Poi Dog's origins

If you ever ate at Poi Dog's Philadelphia storefront or its food truck, you would have been invited to douse your fresh ahi poke bowl or smoky Kalua pork-laden plate lunch with generous dashes of a savory, vinegary house-made and spicy but not-too-spicy sauce that wasn't quite a sauce. Rice soaked in chili peppah water, mingling with the drippings of juicy pork and glistening fish, propelled Poi Dog receive two Best of Philly awards in 2014 and 2017.