Since the 1970s Kisoondo Traditional Jang has produced an array of jang products, including pickles, using knowledge built over several generations. The family's multiple-award-winning matriarch Soondo Ki has been designated a Korean Food Grand Master by the Korean Ministry of Agriculture, Food and Rural Affairs, and has built a following in Korea and overseas.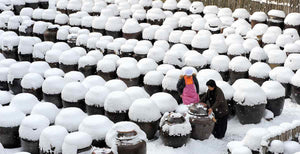 INGREDIENTS

Only 100% Korean grown, all natural, non GMO products are used to create Kisoondo's jang products. The family also makes the main jang ingredients, aged soy sauce and roasted bamboo salt, in-house.
GRAND MASTERS

An exclusive group of artisans recognized and designated by the Korean Ministry of Agriculture, Food and Rural Affairs for their invaluable skill sets, there are 75 Grand Masters (68 active) as of 2018. Designated in 2008 for her expertise in jang products, Ms. Soondo Ki is the 35th Korean Food Grand Master.
What Is Jang?

Meaning 'thick fermented sauce', jangs are a staple in every Korean household. There are three fundamental types of jangs : gochujang (red pepper paste), doenjang (fermented soybean paste) and ganjang (soy sauce). Then there is ssamjang, technically a blend of gochujang and doenjang with the addition of spices and herbs. Jangs are at the center of Korean cooking, responsible for delivering that extra umami oomph in every dish.