Established in 2018 by award winning Icelandic chef, Volundur Volundurson, Iceland Organic, focuses on pure, organic, high-quality and sustainable products from Iceland. What started as a hobby has grown rapidly and Chef Volundarson´s unique blend has become popular amongst chefs and culinary enthusiasts. 

With profound respect for the environment, Iceland Organic, aims to offer the best that nature has to offer.

Transparency is key here and you can follow the Volundarson family and their organic adventures on social media here.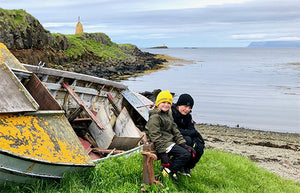 The Salt

The salt is made with only geothermal energy using a method that dates back to 1753. This particular process results in a unique salt brine that contains almost the same ratios of calcium, potassium, magnesium, and sulphate as those of natural seawater.
The Seaweed

The seaweed is hand harvested at the coast of Snæfellsnes peninsula which is one of the most fertile area of Iceland.
The packaging

Completely sustainable and 100% recyclable. Our eco-friendly containers are designed with a paperboard base and Vegetop®, a special top made of organic, compostable plastic.